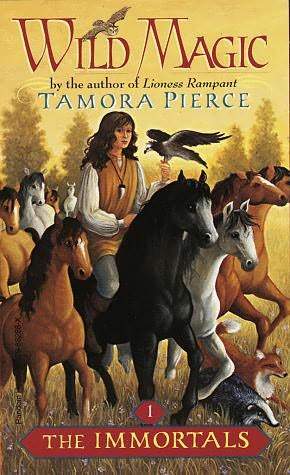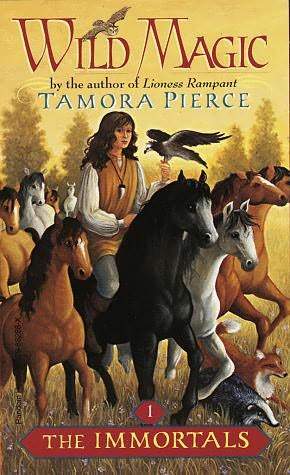 Another amazing series from one of my favorite authors of all time, this time centering around a strange girl from the wild who has a talent with animals. Daine manages to get a job in the stables of the same royal palace that Kinght Alanna trained and serves at. But she has a terrible secret. Daine's unique way with animals is the reason she had to flee her home in the mountains, and it's far too powerful to keep hidden from the new friends she makes in the Kingdom of Tortall. Luckily, Tortall is far more accepting than Daine's old home, and she soon finds that her strange powers fit in with a wizard who turns himself into a bird, a thief made into a lord, and a woman knight under the protection of the Goddess.
However, as kind as the people she meets are, Daine still remembers how the villagers from her home killed her mother and set fire to her house, for fear of Daine's abilities. Can she really trust her new friends? Or are they just using her, because her powers are becoming very useful with the kingdom overrun by Immortal creatures taking up residence all across the land and causing trouble?
This is another Tamora Pierce book I adore, and it even has many appearances of my most favorite Lady Knight. But Daine herself quickly won my heart over, even as different from the brave Alanna as she is. Daine has the gift of talking to animals–any animals, even immortal beings from the Realm of the Gods. If people weren't terrible, she likely would have lived a peaceful, quiet life in solitude. But, because the villagers didn't understand her magic, they claimed she and her mother were evil witches, and drove Daine out with fire. This event changed Daine, making her less trusting of strangers (human ones) and far more secretive and cautious than she was as a child. She eventually learns to trust again, and also to be proud of her power, rather than fearing how people will see her. Which is a good thing, because those Immortals running rampant everywhere? They aren't just looking for mischief, they're invading the mortal realms to set up homes of their own, and they don't want to share with humans. So the Kingdom of Tortall, and all the Kingdoms of men, are in great need of any help they can get, and Daine's power may be just enough to save them.
The Immortals series was one that I read and reread until the binding wore out, and now those tattered books sit in a treasured spot on my shelf. So give it a try and see if you'll fall in love with Wild Magic too!