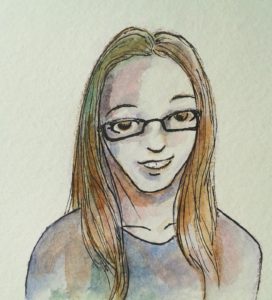 Hello all, I am Lara Ellwod, and I'll be contributing to Tara Maya's blog.
I'm a floating artist, seeking out pleasant blogs to spread my roots in and flower~ I'll be making posts for all of you Tara Maya fans to enjoy, desperately waiting for her next book to come out! Yeah, I know I won't be as good as that gold tinted, rainbow hued update post letting you know another Unfinished Song novel is out, but I'll do my best! I'll tell you about my favorite YA novels, all the best games, and the craziest anime—it'll be fun, I promise.
Now, to tell you a little about myself– my favorite books are The Last Unicorn by Peter S. Beagle and The Darkangel by Meredith Ann Pierce, I'm an artist and my favorite mediums are watercolor and inks. I watch lots of anime and play video games in my free time. I'm learning to build things out of cardboard and I collect every scrap of paper I come across. I look forward to blogging with Tara and getting to know her fans!