I'm honored to be a part of this new collection of novels about the fae! I hope you'll check it out and discover some new favorite series.
A stunning collection of the first books in six fan-favorite series by bestselling, award-winning fantasy authors! Discover the many worlds of Faerie in these novels filled with adventure, love, and – of course – Fae Magic.
Including…
The Unfinished Song (Book 1): Initiate by Tara Maya
Dindi can't do anything right, maybe because she spends more time dancing with pixies than doing her chores. Her clan hopes to marry her off and settle her down, but she dreams of becoming a Tavaedi, one of the powerful warrior-dancers whose secret magics are revealed only to those who pass a mysterious Test during the Initiation ceremony. The problem? No-one in Dindi's clan has ever passed the Test. Her grandmother died trying. But Dindi has a plan.
AN EXILED WARRIOR…
Kavio is the most powerful warrior-dancer in Faearth, but when he is exiled from the tribehold for a crime he didn't commit, he decides to shed his old life. If roving cannibals and hexers don't kill him first, this is his chance to escape the shadow of his father's wars and his mother's curse. But when he rescues a young Initiate girl, he finds himself drawn into as deadly a plot as any he left behind. He must decide whether to walk away or fight for her… assuming she would even accept the help of an exile.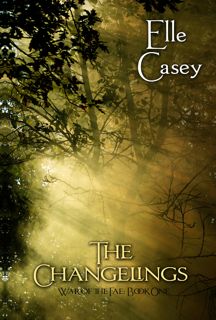 The Changelings (War of the Fae Book 1) by Elle CaseyJayne Sparks, a potty-mouthed, rebellious seventeen-year-old and her best friend, shy and bookish Tony Green, have a pretty typical high school existence, until several seemingly unrelated incidents converge, causing a cascade of events that change their lives forever. Jayne and Tony, together with a group of runaway teens, are hijacked and sent into a forest, where nothing and no one are as they seem. Who will emerge triumphant? And what will they be when they do?
Fairy Metal Thunder (Songs of Magic, #1) by JL Bryan
A rock & roll fairy tale.
Jason Becker plays guitar in a small-town garage band called the Assorted Zebras, along with a few other kids from his school. Unfortunately, they have no fans, no gigs, and they're going nowhere. Then Jason catches a goblin robbing his house, and he chases the little green thief to creepy old Mrs. Dullahan's overgrown back yard, where he discovers that the miniature doors in her trees lead deep into the fairy world.
Jason returns with fairy instruments that transform the band's sound into powerful, enchanting music. Soon, the Zebras are drawing huge crowds, but they discover their new gear is brimming with destructive magic they can't control.
Their shortcut to success turns Jason and his friends into enemies of the treacherous Queen Mab, who wants to keep the fairy world secret from humans. She sends magical hunters to track them down, including one of the most dangerous horned creatures in Faerie…a small unicorn named Buttercake.
Feyland – The Dark Realm (Book 1) by Anthea Sharp
Faeries. Computer games. When realms collide, a hero from the wrong side of the tracks and the rich girl he's afraid to love must risk everything to fight the treacherous fey.
What if a high-tech computer game was a gateway to the dangerous Realm of Faerie?
WHEN A GAME…
Feyland is the most immersive computer game ever designed, and Jennet Carter is the first to play the prototype. But she doesn't suspect the virtual world is close enough to touch — or that she'll be battling for her life against the Dark Queen of the faeries.
TURNS REAL…
Tam Linn is the perfect hero — in-game. Too bad the rest of his life is seriously flawed. The last thing he needs is rich-girl Jennet prying into his secrets, insisting he's the only one who can help her.
WINNING IS EVERYTHING…
Together, Jennet and Tam enter the Dark Realm of Feyland, only to discover that the entire human world is in danger. Pushed to the limit of their abilities, they must defeat the Dark Queen… before it's too late.
Faelorehn – Book One of the Otherworld Trilogy by Jenna Elizabeth Johnson
I never heard him come after me and even as I climbed the slope and stumbled onto our shaded back lawn, I didn't look back. It was like the day the gnomes chased me all over again, but this time I was not escaping some horrible little creatures, I was fleeing from an incredibly good-looking guy who could very well understand me completely. I was either saving myself from that serial killer I always imagined lived down in the swamp, or I had finally gone over the deep end . . .
Meghan Elam has been strange her entire life: her eyes have this odd habit of changing color and she sees and hears things no one else does. When the visions and voices in her head start to get worse, she is convinced that her parents will want to drag her off to another psychiatrist. That is, until the mysterious Cade MacRoich shows up out of nowhere with an explanation of his own.
Cade brings her news of another realm where goblins and gnomes are the norm, a place where whispering spirits exist in the very earth, and a world where Meghan just might find the answers she has always sought.
Ever Shade (A Dark Faerie Tale #1) by Alexia Purdy
A dark twist on faeries. For Shade, a chance meeting with a powerful Teleen Faery warrior who wields electrical currents and blue fires along his skin, has her joining him on a treacherous mission for the good Seelie Faerie Court across the land of Faerie. Magic and malice abound and nothing is what it really seems to be.
The evil Unseelie Queen and her treacherous allies are around every corner as Shade makes her way across the breathtaking landscapes of the world of Faerie, which exists alongside the mundane human world. Shade discovers her own uncharted magic and meets some of the most powerful warriors in Faerie while battling evil dryads, conniving Teleen guards and challenges on her life with every step in a world where nothing can be taken for granted.
After you've finished reading, be sure to leave a review where you purchased it or on Goodreads/Shelfari to help other readers find Faery Worlds.