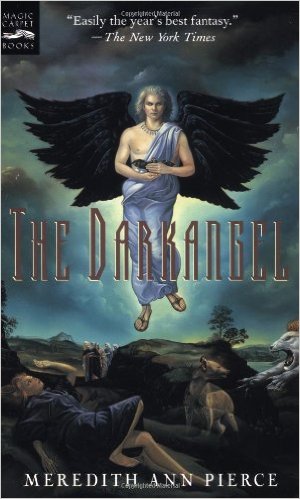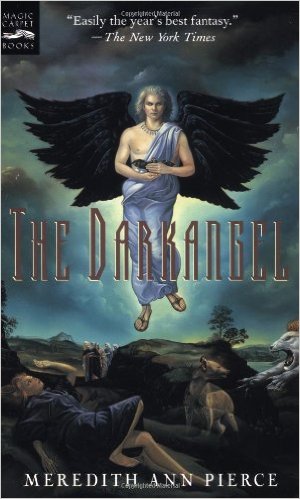 Okay, time to tell you about one of my favorite books of all time. The Darkangel by Meredith Ann Peirce. This story is about a girl named Aeriel. She is the servant of a beautiful, rich maiden, Euduin, who is to be married. But just before the ceremony, Eoduin is kidnapped by the frightful darkangel, with fiercely beating black wings and pale dead skin. Aeriel's masters blame her for their daughter's loss, and everyone gives up all hope of ever saving poor Eoduin. Even Aeriel knows there is no chance her friend is still alive, for the icari, the vampyres can drink a maiden's blood and soul before she has a chance to scream. So, instead, she vows to avenge her friend and kill the terrible vampyre so that no other maidens are taken and no other lives destroyed.
But when she meets the vampyre again, she is stunned by his beauty—his twelve midnight wings are resplendent and his face the fairest she has ever seen. She falls unconscious and is taken to the darkangel's castle to be a servant to his wives. For thirteen years, the darkangel has kidnapped beautiful women and wed them, stealing their souls and drinking their blood on their wedding night. These hideous wraiths wail and scream so for the loss of their souls and beauty, that they must be attended so they stay quiet. Aeriel finds the newest wife is her own Eoduin.
Aeriel is forced to care for the wives of the darkangel, and feed his terrible gargoyles, and tell the darkangel stories whenever he grows bored. She learns to love the pitiful women who had so much stolen from them, and to pity the frightful gargoyels who she knows will rip her to pieces if she ever tries to escape, but who are so mistreated and frightened, she cannot help but see them as prisoners the same as herself. She even finds that she can pity the darkangel, for he is not yet a true vampyre, not ugly and twisted and thirsting for souls and blood. The wraiths tell her that he is collecting souls for his dreaded mother, the lorelei, who drank his blood years ago and made him what he is now. She will eat the souls he brings her, and then eat his own—turning him into a true vampyre, empty and forever hunting souls to fill that emptiness, just as his six older brother do across the world in far off lands. The wraiths tell Aeriel she must kill the darkangel before he collects his fourteenth bride and steals her soul, but Aeriel has begun to love him, for she finds him to be as pitiful as all the other tragic residents of the castle. Trapped and twisted by his mother, as surely as the wives were by him.
Can Aeriel bring herself to kill the darkangel before he ruins any more lives? Or will she find a way to save him?
The Darkangel is the first book in a trilogy of Aeriel's adventures across the land of Avaric, where the plains are pale dust, the mountains low, and the blue-white moon Oceanus hangs always in the sky while the Solstar rises and sets a fortnight apart. I dearly love this book, I cannot do it much justice trying to explain how beautiful the settings are, how rich stories, nor how emotional I get when Aeriel speaks to the darkangel or weaves garments for the wraith wives. The following books, A Gathering of Gargoyels and The Pearl of the Soul of the World, are no less entrancing and together they are one of the best fantasy stories I have ever read. If you haven't yet, I absolutely recommend you check them out—you won't be disappointed!